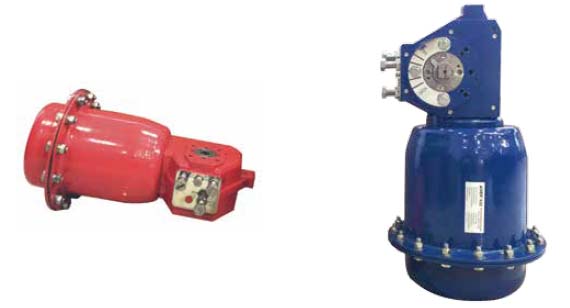 About ASD SPRING-DIAPHRAGM ROTARY ACTUATORS
By utilizing proven spring material, advanced filler reinforced diaphragm technologies, precision engineering of the crankshaft, and the connecting rod design, the ASD Spring-Diaphragm Rotary Actuators are developed specifically for quarter turn valve automation applications to provide safe and reliable operation even with minimal media supply pressure. The design separates the supply power media chamber from the spring sets allowing the actuator to be operated by unfiltered air, gas, water or mineral-based hydraulic fluid. The housing is constructed using a ductile iron and carbon steel casting that is coated with a polyester powder process to ensure exceptional corrosion resistance in most field environments. The independent media chamber is also equipped with a Buna-N diaphragm reinforced with special compound polyamine fabric, allowing the actuators work in the temperature conditions from as low as -40 and to +390°F.

FEATURES
Universal Mounting Pads - Direct Mount
A combination of different mounting pad dimensions allow users to directly replace other existing spring-diaphragm actuators or mount directly to new and existing quarter turn valves.
Namur Mount
The design of the unit makes it easy to mount for various control accessories, such as limit switches, solenoid valves, positioners, and decluchable manual overrides.
Multiple Drive Bushings (Removable & Replaceable)
The removable drive bushings allow users to mount ASD actuators to a number of different valve stem configurations wheather in the field on existing valves or on new valve applications.