Design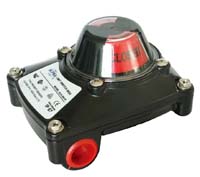 The ALS-200M is armed with mechanical switches to indicate the open and closed positions remotely.This kind of limit switch box applies compact design to offer a mini-type limit switch box which provides a simple application for valve and pneumatic actuator position monitoring. This mini-type product is weather proof protection in an aluminum die-cast enclosure and O-ring. The bracket is designed in light of ISO5211 and NAMUR standard.
Features
1, Compact and Beautiful Design: Mini-type aluminum die-casting cover and housing with powder coated in any colors.
2, Bolts on Visual Position Indicator: Secure waterproof.
3, "Quick-Set" Cam: With spring loaded splined cam, no need to adjust again after initial setting and Easy setting without tool.
4, Multipoint terminal strip: Standard 8 points and enough strips for connection.
5, Dual cable entries: 2xG1/2 (Standard); 2-M20x1.5 or 2x1/2NPT(Option).
6, Captive cover bolts: No worry to loose bolts while cover opens.
7, Easy mounting: NAMUR standard stainless steel shaft and bracket.
Structure and Material
No.

Part Name

Qty.

Material

Picture

1

Box Cover

1

Aluminum Die Casting

2

Box Body

1

Aluminum Die Casting

3

Shaft

1

Stainless Steel

4

Indicator Cover

1

Polycarbonate

5

Indicator

1

ABS/Polycarbonate

6

Switch

2

Mechanical

7

Terminal Strip

8

Polycarbonate

Tin Plated Brass

Stainless Steel

8

Cam

2

Polycarbonate

9

Spring

1

Stainless Steel

10

Bolts

4

Stainless Steel

11

Shaft O-ring

1

NBR

12

Body O-ring

1

NBR

13

Indicator O-ring

1

NBR

14

Bushing

1

Bronze

15

Earth Lug

1

Stainless Steel

16

E-ring

1

Stainless Steel
Specification


Dimension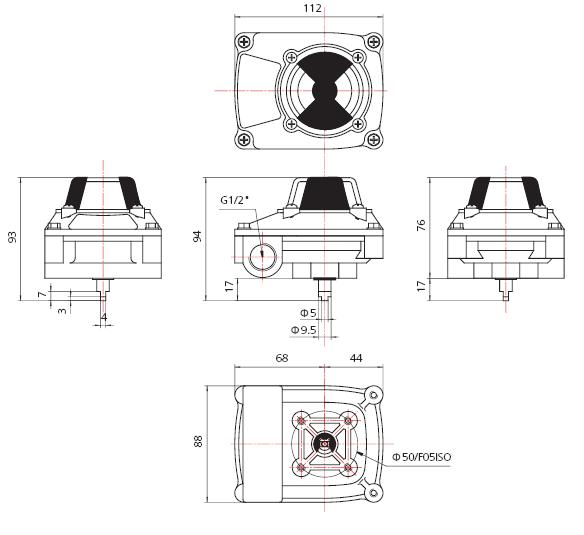 Wiring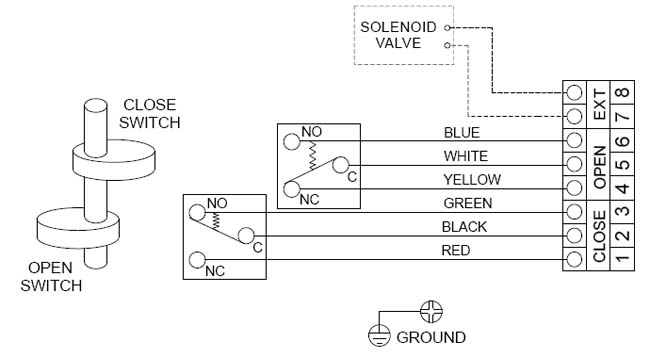 Mounting Bracket
Model

Picture

Material

Application

MB-1.0

Steel plate

30x80 H:20

Stainless steel

Steel plate

30x80 H:30

Stainless steel

MB-1.1

Steel plate

30x130 H:30-50

Stainless steel